#KOMENGIVINGDAY is September 29th…BE More Than Pink Today!
Today is the day!
Be More Than Pink and help us kick off October with a donation to Komen North Jersey!
We're asking our supporters to help us start Breast Cancer Awareness Month in just a few days in a place of strength so that we can tackle our big, bold goal successfully!
Below our Komen North Jersey friend, and Pink Tie Guy, Charles Way tells us why he is More Than

Pink

.
Charles knows that everyone needs support, even professional athletes, and that's why he is asking you to support Komen North Jersey. Will you take the challenge and be More Than Pink on Komen Giving Day?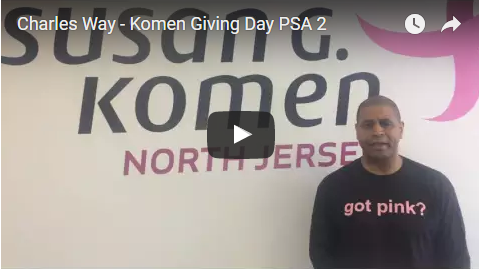 Why not share this video and why YOU are More Than Pink! Be sure to use #KomenGivingDay and #MoreThanPink so we can see all of your wonderful stories!
Sincerely,
Kelly Witkowski and the Komen North Jersey Team